To the "WORLDWIDE" Stage
Under the sponsorship of the parent company, we will arrange our legal representatives in China, Korea, Vietnamin which Japan is the main research base, China and South Korea are the distribution markets, Vietnam will become the main production base. We have built a stable and solid company's image, like a "4-foot incensory" with the "co-ownership of products and components" method that will create a high-performance operation system.
STK Group is aiming at expanding our business globally rather than changing to the "worldwide"stage, switching from a Japanese business to an Asian business on the occasion of the 100th anniversary of its founding.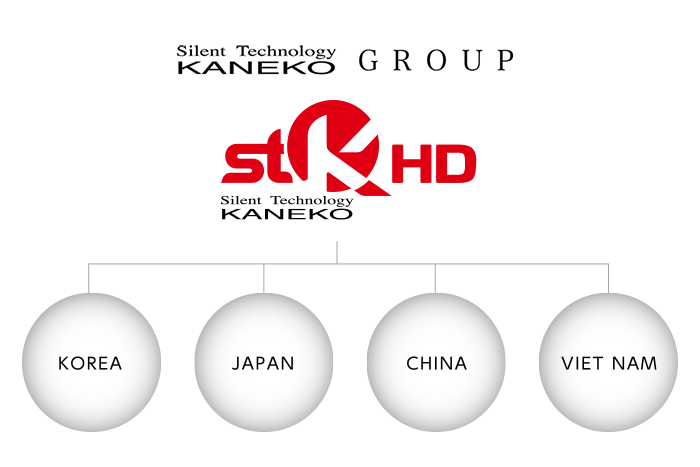 Group List
Head office
5-10-6 Minatoku Tokyo JAPAN


TEL +81-03-3455-1411 FAX +81-03-3456-5820

KANEKO Hiratsuka factory
5-3-9 Higashiyawata Hiratsuka-shi, Kanagawa JAPAN


TEL +81-0463-23-1511 FAX +81-0463-23-8055

KANEKO Fukuyama businesss office
2-24-25 Minamizaōchō Fukuyama-shi, Hiroshima JAPAN


TEL +81-084-923-5877 FAX +81-084-923-5892

KANEKO Shanghai
No.7, 699, Lane Zhang Wengmiao Road, Fengxian District, Shanghai, 201499, China


TEL +86-021-6710-8828 FAX +86-021-6710-8829

KANEKO Korea
202-307, 397, Seokcheon-ro, Ojeong-gu, Bucheon-si, Gyeonggi-do, 14449 KOREA


TEL +82-32-624-0593 FAX +82-32-624-0590

VIETNAM KANEKO CO.,LTD
Nhon Trach 3 Industrial Park, Phase 2, Hiep Phuoc Town,
Nhon Trach District, Dong Nai Province,Vietnam.


TEL +84-251-3566-725 FAX +84-251-3566-017

STK ENG CO.,LTD
24 Nguyen Quy Canh St., An Phu Ward , Thu Duc City, Ho Chi Minh City, Viet Nam


TEL +84-2862-713-246